A tribute to the Orange Army of Weekend Warriors, without whom the world of motorsport could not function.
It uses a Revell 1/25 Petronas Sauber C22 F1 car (07236) picked up in a charity shop for £4.
The kit had been started, some suspension parts having been painted in rather thick coats of enamel paints and the clear parts - vestigal windsceen and rear light - where missing.
It depicts the car in a gravel trap, the rather irate driver complaining to the Incident Officer that he was nerfed off and two other marshals attending with fire extinguishers 'just in case'.
The decision to depict the car in the gravel trap resulted from efforts to strip the old paint off, which appeared to have weakened some of the small locating pins in the suspension uprights, etc. so it was clear that it might prove tricky to depict the car in a more normal pose.
This was compounded by the fact that I damaged some of the decals during application, particularly those on the right side-pod - hence the prominent 'tyre rub' mark to cover the damage.
The figures where scratch built, mainly utilising body parts created from mouldings taken from assorted 1/25 driver figures from kits in the stash.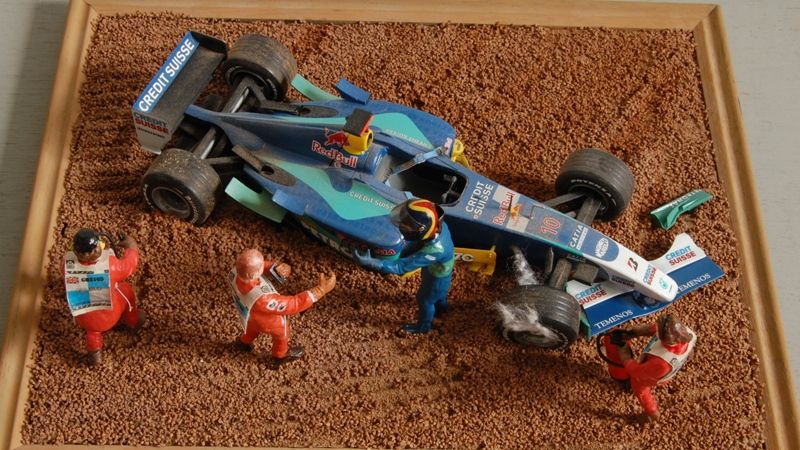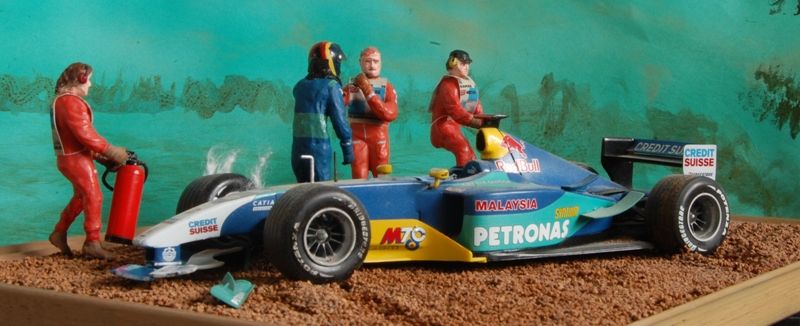 _________________
Buy less, start less, finish more - or at the moment just try to finish at least one!
IPMS 13440
My WIP
My Portfolio