AMT 1/2500 Star Trek USS Enterprise NCC-1701-E (663)


Star Trek: First Contact - Battle of Sector 001
The second major Borg incursion into Federation space began on stardate 50893.5. Captain Picard aboard the USS Enterprise-E was ordered to patrol the Romulan Neutral zone much to his disappointment. Listening to the battle, Picard realized the federation was losing and disobeyed orders and immediately warped to the battle in Sector 001. Arriving just in time to take command of the battered fleet, Picard used his residual link to the Collective and ordered all weapons to be targeted on a seemingly non-critical point on the cube. This destroyed the cube, but the Borg managed to launch a second ship which opened opened a time rift and attempted to go back to earth before warp travel was invented. The Enterprise followed the ship through the rift where they saved Earth from being assimilated.

This is a re-issue of an older kit with new Aztec decals. It's a simple build at 12 parts and the ship itself is under 12 inches long when complete. Two sheets of decals are provided which provides all the Aztec shapes as well as some major detail such as the warp nacelles. Only a few items required paint. Fit was not great as this was a snap kit, but overall a fun kit to build. I built a simple base from a wood plaque, brass tube and an image from the battle with the Borg cube printed on glossy paper.
Underside view - Deflector is painted yellow and washed with metallic paint.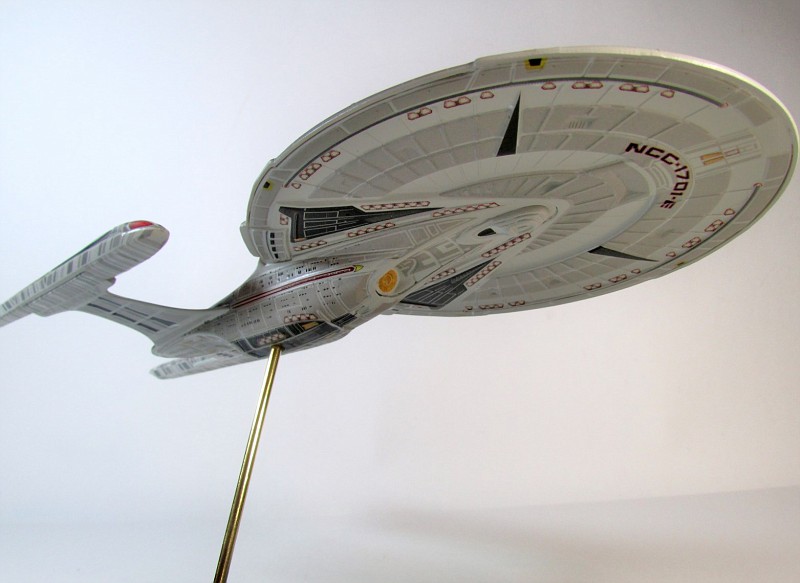 Except for the impulse engines on the saucer and the shuttle bay, all other colors are decals. Makes the warp engines easy to match to the movie colors.
One complaint about the kit is the dozens of windows are not included in the decals. I used an enamel black wash to color the windows.
Thanks for looking,