Some time ago Dan Taylor from Dan Taylor Modelworks sent me a review sample of his StuG Schürzen (Set No C-76075). Unfortunately, competing priorities and learning how to drive my new camera have conspired to delay my review until now.
Like all of Dan's range, the Schürzen is 1/76 scale and this particular etched brass set is designed to enhance the venerable 1/76 Airfix "Panzer 75mm Assault Gun" or Sturmgeschütz III ausf G (StuG III).
I built my first Airfix StuG III in the early 1960s and it remains one of my favourite kits. Some of the detail is a little clunky, the Saukopfblende (Saukopf) mantlet is not quite right, and the 75mm barrel is flimsy, but it is basically an accurate model and it certainly looks like a StuG III.
The StuG III ausf G with the Saukopf mantlet came into service in 1944 and most would have had Zimmerit and Schürzen to increase protection. The Airfix StuG III lacks both Zimmerit and Schürzen and Dan's new set addresses the latter omission.
The etched brass Schürzen set comes taped to a card for support and is packaged in a ziplock plastic bag. A single sheet of paper serves as the product identifier and instructions. The set includes individual Schürzen panels, support rails, stowage rack, machine gun shield, spare track mounting rails and an exhaust shield.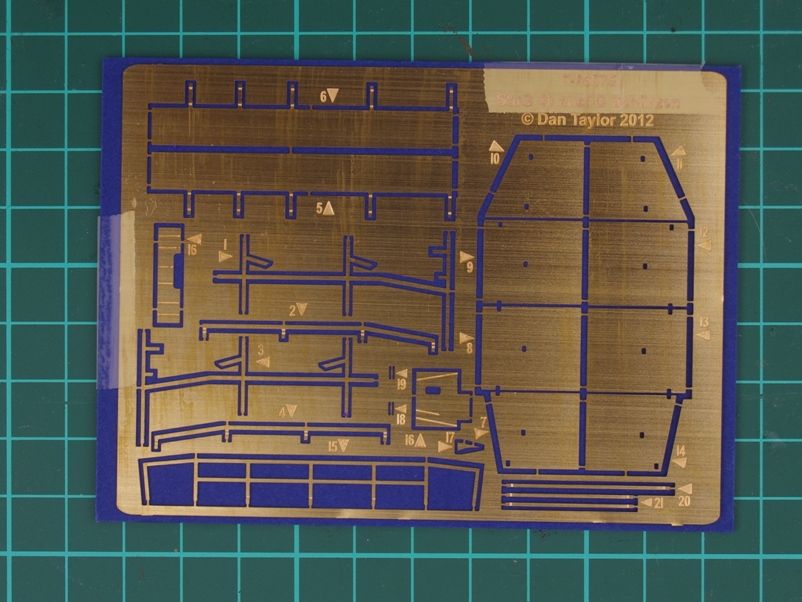 The instructions are comprehensive with drawings and photographs to aid in construction. Each etched part is numbered on the adjacent part of the carrier (if that is what you call the surplus brass) and the drawings and photographs clearly how each numbered part fits on to the StuG III. There is one error with two parts given the number 16. The exhaust shield is actually part 22 and this is explained in the instructions.
The instructions also explain how the Airfix kit was based on a StuG III that was fitted with Schürzen and a stowage rack. Five blocks on the engine deck represent the mounting points for the stowage rack and these will have to be removed if you intend to use the rack. This leads me to the different options for using the etched parts; panels may be left off to represent battle damage or vehicles in transit with their Schürzen on the engine deck, later Stugs with the remote control machine gun will not have the shield. In other words, you may use the complete set on one StuG III or use components on a couple of models.
I have scratchbuilt Schürzen from plastic card and rod in the past (as I am sure many other modellers have done) and I am looking forward to seeing how the etched set compares. Certainly the support rails, stowage rack and machine gun shield area closer to scale size than I could achieve with plastic and should be sturdier. Hopefully I can post some photographs of the Schürzen fitted to one of my StuG IIIs before much longer.
Finally, thank you to Dan for providing me with the set for review.