A mottled Luftwaffe camo is never going to be absolutely right unless you spray. But since I don't spray paint (can't take the fumes and I refuse to model in a space suit) I've learned that painting the mottled Luftwaffe plane is an exercise in care and planning.
Get a photo of the actual plane. Study it. Take the brush and try to replicate what you see. Don't depend on a "method" or or "tool" to do the job. Remember that plenty of artists have painted these German planes on canvas and they managed to get it.
There are at least two main schools of thought on this. One is the "make fuzzy dots" school. They would take a regular brush (about No. 1 size) and cut off all but a little stub of bristles. Then get a tiny bit of paint on the stubble brush and stab at the surface to be painted, producing a "fuzzy spot." You can also use other devices, but this is not how I approach it at all.
Here is an example. I have photos showing the FW-190A of Pips Priller. So I look at that and try to paint, without any concern for fuzziness, what I see. This is the result: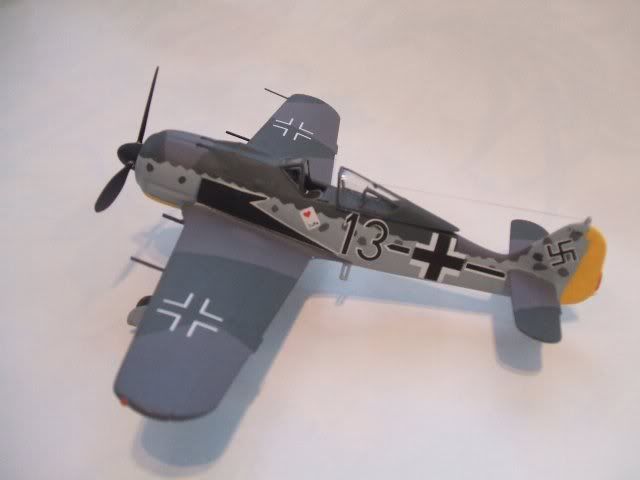 The "spotches" are just dots, painted to be the correct shape and size. No effort was made make them fuzzy.
Each different plane will require a different approach, but painting with a brush requires that you pay more attention to the details, because you can't rely on the airbrush effect to hide mistakes. Your markings have to be the right shape in the right place, because if they aren't, then they are going to look all the more "wrong."
I hope this is helpful to you.
_________________
"Build what YOU want, the way YOU want to, and above all, have fun."
- Al Superczynski (1947 - 2007)
dancho's model collection
dancho's blog