Hi Paul,
I was going to argue your points but after thinking about it for a bit longer I realise you are utterly correct. I've been building the Revell choppers since I was a teenager in the 70's and can identify with everything you've said. The plastic always seemed very brittle and all of the sprues, not just the "chrome" plated ones seem to have a glossy coat on them that needs scrapping off to get a half decent join. It can have it's advantage though, as I recently brought one of my bucket list kits via eBay that I hadn't seen since the early 70's - The L.A.Street Chopper in 1/8th scale. It had been part started but not very well and because of the poor quality I was able to separate most of the engine parts and wheels and break back down to component level.
Being much older and wiser these days (yeah, whatever!) I immediately cut any chrome plated parts off the sprue and immerse them in a tub of bleach to strip them, file off any plastic seams, and the coat with Gloss Black before using AlcladII Chrome.
Here is one from a few years back - 1/8th Revell Chopped Hog - still awaiting the cables to be added - one of the better features of the Revell bikes.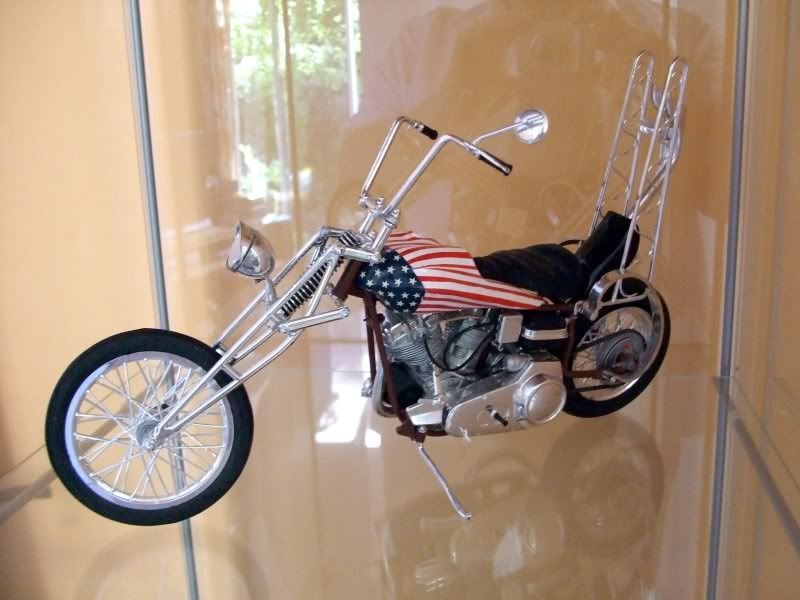 And in all fairness, this one by Airfix isn't exactly a work of art, but then it has also been around for a long, long time now.
I'd like to see any photos you have of your bike builds - stick with it mate, look on them as a challenge!
Cheers
Al.