I originally posted this in the Off Topic Area, but it was thought that as it is a model (albeit cardboard), it should go in the non-Airfix diorama section.
In 1985, I came across a book in which the pages could be cut out and assembled into a model (about 1/72 or 1/76 I would estimate) of the stage at The Royal Opera House, Covent Garden.
The actual stage was about a 12" cube. And scenes for an opera (Puccini''s La Boheme) and a ballet (The Sleeping Beauty). I did the scenes for The Sleeping Beauty and used excerpts from Tchaikovsky's score to put it on for a college rag week. The scenes slid in from the side and backcloths and drapes slot in from above - as does the front stage curtain so scene changes can be made between acts. I made some alterations so that some key characters could enter at crucial points and also added wheat-grain bulbs for lighting as well as a desk lamp and torches to give different lighting effects. Speakers were placed behind the backcloths so that the music sounded like it was coming from the stage.
This is the stage taken from an illustration from the book ...
And this was the set-up behind the scenes (one of the sets can be seen at the side ...
These were the various sets for the acts ...
The whole model took several hundred hours to cut out and assemble, but was great fun. The attention to detail in the kit is outstanding with even the backs of the figures and the sets printed and instructions for stage directions are conveniently printed on the back of each backcloth.
At the time, the performance was put on twice nightly for a week and my very rough and ready lighting system thankfully held out.
Because the stage was only one foot square, each audience could only be about 6-8 people - suitably attired, of course! Each performance was in two halves of 15 minutes each with an interval.
The whole thing was enclosed in a booth made from black card so that only the stage front could be seen and the front curtain lowered between acts meant that the scenes could be changed and then the curtain raised again. ...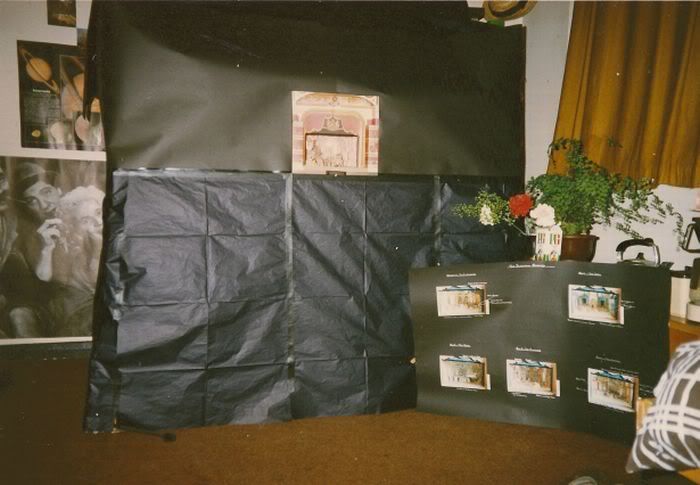 In my opinion, this is the best cardboard model theatre I have ever seen and would highly recommend it. Sadly, it is now out of print due to, I believe, a dispute between the authors and the publishers. They can still be found on ebay and, I think, Amazon - but aren't particularly cheap. So sad, because this really is a brilliant model which could be modified even more than I did with my lighting and moving parts and it is absolutely absorbing to build and looks better than these old photos.
_________________
Cheers! Alan
*****
'If you aren't living on the edge, you're taking up too much room.'
Model Madness