A long time ago, Green Sheild Stamps' were given to the shopper in proportion to his or her spend. These'd be collected in 'saver books' which when full could be exchanged at special outlets for goods as set out in a catalogue. For one complete book you could get four base level Revell kits! My mum collected the stamps, giving me a few each time we went shopping. Eventually I had enough for the models. In exchange for my book, I got a Nakajima 'Hayabusa', P51 Mustang, PZL PIIC and a Morane Saulnier. My knowledge of aircraft types was limited to what was in the Airfix Catalogue, so aside from the Mustang, these were exotic models to be sure! And the Morane Saulnier my first WWI kit. Memories aside, I picked this up at a charity shop, paying £1 for it. I'd seen Eastern Express kits in my LMS but had never bought one. Hannants carry the range and the kit was listed at £6.99 (March 2017).
Whereas the Revell kit was robustly engineered and would be capable of completion even by the most inexperienced modeller, this is delicately moulded and has the look of a limited run product.
Moulded in a hard white plastic, the kit has 25 parts some of which appear impractically small and/or delicately moulded especially the undercarriage struts and braces. Flash is present on most of the parts. There is some flash on the runner adjoining the rudder and a single cylinder of the very basic rotary engine.
Flying surfaces are intended to be butt jointed to the fuselage. The propeller has separate blades to be attached to the large spinner. These are crude representations of the actual. The single machine gun is supplied in two under-scale parts intended to be fixed front and rear of a forward upper fuselage 'bump'. The open cockpit is devoid of any detail. The main-planes feature prominent scalloping which will need to be toned down.
The finishing guide occupies ¼ of a side of the A4 instruction sheet. Rigging is shown, but the upper, lower, left and right fuselage diagrams are inadequate for this purpose. A simple colour grid is keyed to the diagrams to enable finishing, but with one half of the fuselage keyed 'silver' and the other 'pale yellow', independent verification will be necessary before use.
A set of decals for one finish is provided, being the aircraft flown by 11 victory Russian 'ace' Ivan Vasilyevich Smirnov. These appear thin and brittle.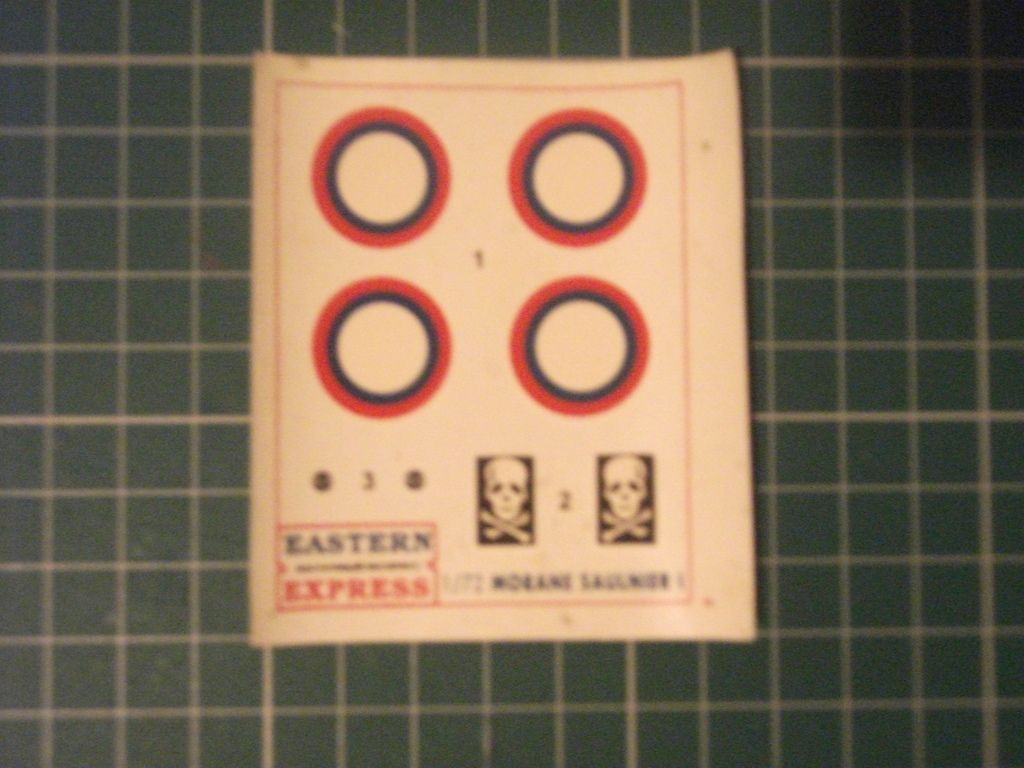 In conclusion, this kit looks a challenge to all but experienced builders with some of the smaller parts needing replacement and some detail, ie the cockpit interior needs to be added.