Thanks, it is a really nice kit.
Stage 8
The instrument panel is made up of 4 decals, to assist in fitting, I went over the outline with a scalpel to remove any excess carrier film. Fit was good and quite a good effect when done. Apologies for the blurry picture here.
The centre struts were then inserted into the fuselage top.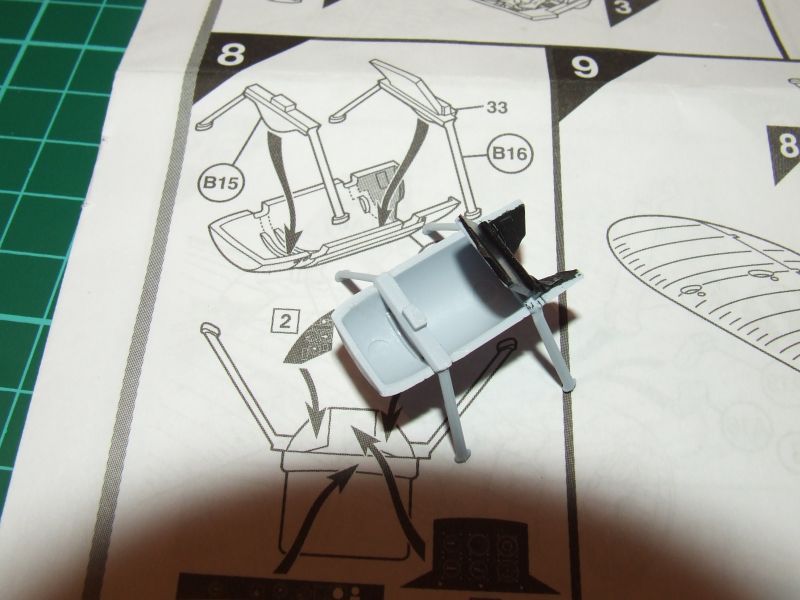 I put the kit down haphazardly on the instructions which were opened on the paint guide at the time and I noticed something. Now I don't know if this happens with other kits, or was possible because of the size of the gladiator or if it's is just a happy coincidence.
But the plan diagram is the same size as the kit, should help the airbrush fraternity to make masks easily.(the side elevations are a little shorter than the kit.)
Stage 9
The lower wing and top fuselage are fitted. These both required a little work, test fitting showed that both parts would require a little persuasion to get in place, given the centre struts are quite fragile I attached the lower wing first.
The issue with the wing on my kit appeared to be that the lower fuselage of the plane was a little more curved than the wing. so I fitted the rear of the wing and fuselage insert first using CVA, after a few minutes attaching the front also with CVA and when set running plastic weld down the join lines.
The top fuselage I think is fouled by the blanking plate under the I/P, possibly caused if the seat assembly is slightly out of line at stage 6. Here I used plastic weld and applied pressure until the solvent had set.
Neither were major issues but you might want to be aware of them if making the kit.
_________________
John.
Kate "So what did Ducky look like when he was younger"
Gibbs "A bit like Illya Kuyakin"
IPMS member 13348. Airfix club IRWI54B955E
Portfolio
W.I.P.