It'll fit Chris - the wingspan is only the same as the Lancaster, so no worries on that score.
Brews - thanks ever so much for the photos. They're proving very useful. Unfortunately there's some differences compared to the callouts on the instructions, so I've done some repainting today. However, I ought to give an update reflecting what I've done since I last posted on this one, so here goes...
I started by painting the two main interior colours, which were listed as Hu79 for the cockpit areas, and Hu78 elsewhere. In the meantime, at Brews' suggestion, I read through the build threads for the ATF Fw-190 Group Build and the ATF 1/24 Group Build, both of which took place in 2009. One reason for doing so was to confirm exactly which part to omit from the engine in order to optimise the fit (part number 36). It was also useful in confirming that the interior colours should actually be RML66 and RLM02. I decided that the RLM66 was close enough to Hu79 that no repainting would be required. However comparing Hu78 with both RLM02 and the colours shown on photos of my subject, it was a poor match, so I chose to mix up a new colour. The various reference photos show two different colours, depending presumably upon lighting conditions and exposure settings etc, but some of the time it seems mostly a mid-grey colour, and others a much lighter greenish shade. The colour I produced is probably closer to the latter, but overall I'm fairly happy with it. So, having repainted what felt like most of the kit, I moved onto the more detailed parts.
Checking the references for the engine, I found that the various parts making up the front end were not Hu79 at all, but looked to be Hu85. I repainted them, and then added additional colours to add detail. So far, I've only really got the very front areas of the engine done, and a tiny amount of work has been done on the cockpit details. Essentially, it looks like there is a great deal of slow painting to be done on this build, complicated by potential fit issues, involving lots of sanding and clamping. We'll see as the build progresses. Anyhow, here's some of the more interesting parts completed to date, illustrating the variety of colours even at this early stage. For the spinner I've gone with Hu125 US Dark Grey for now (not sure it's quite blue enough), and for the backing ring behind the propeller boss I used Hu71.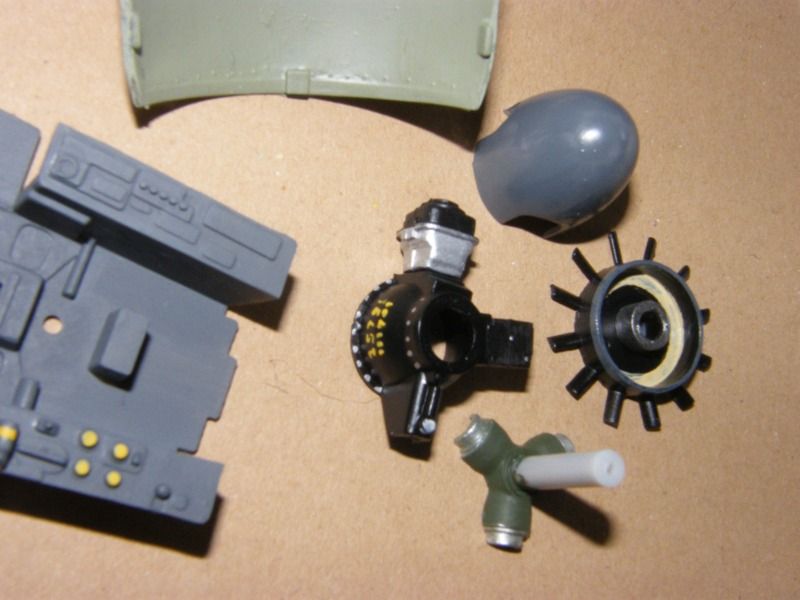 Meanwhile thanks to Ratch, Hangertime, Owen for the information in their build threads, and especially to Brews for all the help he's already given me on this build.
James